NATURALLY FOCUSED BRAIN RESILIENCY
My mission is to help active individuals, struggling with persistent post concussion symptoms return to their highest level of play naturally.
It takes about 70Gs to cause a concussion, and 4.5 Gs to cause a whiplash injury. Is your neck being properly assessed?
Dr. Brigitta, ND is a registered Naturopathic Doctor and a Primary Care Paramedic, who has a passion for building brain resiliency, managing post concussion care and optimizing athletic performance.
Brigitta is grateful to bear witness to lives being saved before her eyes and greatly appreciates the continued advances in both Prehospital and Emergency Medicine. However, she quickly saw that this model of protocol-based, symptom relief system of medicine did little to address the individual root cause of dysfunction and disease, especially when it comes to post concussion care.
Brigitta believes that health and wellbeing benefit from both novel and traditional perspectives of medicine It does not have to be one versus the other. It is about empowering you with a holistic view of your brain health and working to create a plan that makes sense for your life.
Brigitta is exceptionally positioned with her training and experience in both Emergency and Naturopathic Medicine to provide patients with unconventional collaborative care. 
Brigitta holds a Doctorate Degree in Naturopathic Medicine from CCNM, is a proud member of the Canadian Association of Naturopathic Doctors and the Quebec Association of Naturopathic Doctor and is board certified and registered with the College of Naturopathic Doctors of Alberta
CranioSacral therapy (CST) has its roots in osteopathy and was developed by an osteopathic physician, Dr. John Upledger. It is a gentle, non-invasive, hands on therapy which works with the body's natural rhythm, central nervous system and fascia to release restrictions and facilitate healing. It is remarkable in that it is light pressure yet, affects deep tissues. It is safe to incorporate with almost all other treatment modalities and can enhance other treatments as it increases circulation locally and systemically.
CranioSacral Therapy complements the body's natural healing process and is effective for pain and dysfunction, including, but not limited to: concussions and post-concussion syndrome, chronic neck and back pain, headaches and migraines, stress and tension-related problems, post-traumatic stress disorder, post-surgical dysfunction.
For further information about CranioSacral Therapy and research or intensives please follow the links or contact Brigitta.
https://www.upledger.com/therapies/index.php
As a Naturopathic Doctor and Certified Sports Nutritionist, Brigitta combines her extensive knowledge of physiology and training in nutrition to bring you the real science and tailor it to your individual needs. As a former competitive athlete and professional coach, Brigitta appreciates that athletes have unique needs and demands combined with regular growth and development, unique female physiology and demanding training and travel schedules. Brigitta works with you to address the foundations of nutrition from a diet perspective and utilizes supplements to speed recovery, decrease the risk of injury and optimize health and performance to help athletes excel to their highest potential.
Fullscript Online Dispensary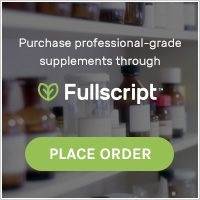 Professional supplement lines available to you, shipped right to your door. Check out my favourites in the product catalogue.
Please Note: Any products purchased without a prescription have not been prescribed by a naturopathic doctor and the purchase of a product from the dispensary does not constitute, nor substitute naturopathic medical care.
Nature's electrolytes, bioavailable and ionic minerals sourced from the purest ocean water and extensively third party tested. 74 trace minerals work synergistically to absorb and integrate with your cells. My favourite magnesium supplement for post concussion care, athletes and shift workers. A fantastic on the go electrolyte formula for anyone looking to stay hydrated while travelling and for those looking to increase their intake of minerals for overall health. 
Use code drbrigitta10 to get you 10% off. 
Clean, purified water in virtually any circumstance, including emergency preparedness, for your home and travel. Pure water free from chlorine, fluoride, arsenic, pesticides and herbicide runoff. Gravity fed home Berkey water filtration systems in various capacities and the Sport Berkey, a non-leaching, BPA-free water bottle for on the go reusable water filtration in any situation. 
Available for virtual appointments and team talks